Château Négrit
Montagne – Saint-Émilion
Vineyard
Acreage: 16,5 Ha
Assemblage/blend: 90% merlot, 10% cabernets
Average age: 35 years old
Terroir/soil: Calcareous-clay 
Localisation: Montagne – Saint-Emilion
Harvesting: Manual & mechanical
Vinification: Maceration at 10 ° C during the first 4 days. Classic winding. Load shedding at 1060 and 1020 density. Micro-oxygenation under MARC. 21 days vatting.
Raising: 18 months in stainless steel and cement vats.
Pairing suggestion
A racy bottle that requires two to four years of care to find its full balance. To be enjoyed on grilled red meats or cold cuts.
Service : 17 °C. Open immediately or after 4 to 5 years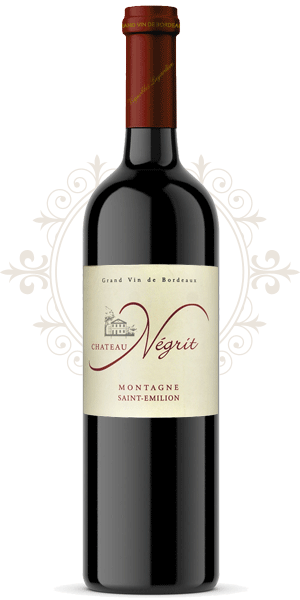 Reviews & distinctions
Review
A "Gourmand" side, a beautiful fruity 
freshness and an evolution, on the
finish, towards spices. 
We will not forget to decant this wine
 before serving.
Distinctions
⭐ 1 star in the "Guide Hachette des vins"
Review
Aromas of crushed red fruits, quality structure thanks to well tamed tannins, roundness of the material. A nice wine from a work well mastered extraction.
Distinctions
⭐ 1 star in the "Guide Hachette des vins"
Review
Garnet red color. Complex nose with a beautiful palette of red and black fruits, spices and toasty and vanilla notes. After a round and supple attack, the wine expresses itself on a beautiful palette of red, black fruits and spices. It stretches on a beautiful material with fine tannins. The wine is on evolved aromas of his age.
Review
Pretty in its garnet color, this mountain presents a pretty bouquet of raspberry. The palate is rather soft and light, and leaves a pleasant impression of freshness. To drink without waiting too much.
Review
Dense dress; discreet nose, which opens with aeration on notes of spicy red and black fruits; vinous and full-bodied, with a fresh and persistent finish. A "jovial" wine, tonic and well built.
Distinctions
⭐ 1 star in the "Guide Hachette des Vins" 2016
Review
The garnet color is limpid, the red fruit flavors mingle with the spicy notes, and the round, bold tannins are charming and complex.
Distinctions
Quoted in the "Guide Hachette des Vins" 2015.
Review
This cuvee opens up to the bustle with complex notes of candied grapes and violets, accompanied by an original touch of citron. Frank, voluminous and robust, the palate combines ripe fruit with woody notes.